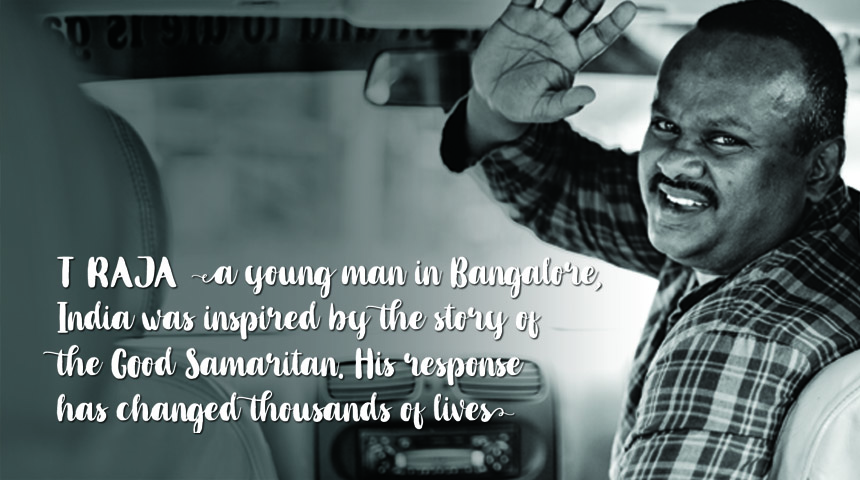 T Raja was never the kind of person that followed the crowd.
Growing up in a Hindu home in Bangalore, India T Raja made fun of the thousands of gods worshipped by his parents. Rather than following their religious ways, he made a living from beating and robbing people. His parents didn't want him, his community was sick of him and, unsurprisingly, he ended up in jail.
It was while in prison that things began to change. T Raja became a Christian and decided he would turn his life around and earn an honest living. After being released, he found a job as a 'tuk-tuk' - or auto-rickshaw - driver and began ferrying businessmen down in to the granite quarries that Bangalore is known for.
Already influenced by the work of Mother Teresa of Calcutta, T Raja found a tract in his tuk-tuk, left by a customer, which described the story of the Good Samaritan. Reading about a man who stopped to tend the wounds of a beaten and forgotten victim, T Raja decided then and there that this was what he wanted to do with his life.
So, in 1998, T Raja began picking up the destitute in his auto-rickshaw and taking them home. His wife Devi worked with him to provide love and care to the streams of homeless and hopeless people that he took in. Most had never known love before. Many were extremely neglected and sick.
T Raja describes the first man he picked up:
"I provided him shelter, gave him a haircut, cleaned his maggot-infested wounds, treated him with antiseptic solutions and gave him food and water… people in the neighbourhood used to ridicule me for bringing home a beggar. After so many days I saw a smile on the old man's face and that was the first trigger for me to start what I am doing today."
In more than twenty years of caring for the least, T Raja has collected more than 10,000 people. More than 80% have had mental illnesses. 7,000 of those he has taken in have succumbed to their lives of neglect and died, but only after knowing the peace and joy of being dearly loved by both T Raja himself, and the God that he introduces them to.
The Home of Hope, T Raja's facility in Bangalore, now has more than 700 men, women and children living in three buildings. T Raja boasts of God's provision by telling visitors that the Home of Hope has never failed to provide a nourishing meal for the residents.
T Raja is a man that has been deeply impacted by the love of God and wants desperately to share that with other people. Thousands of people have benefitted from his depth of compassion.
To read more about T Raja and the Home of Hope, click here.
Click here to view or download our Organisation Profile.