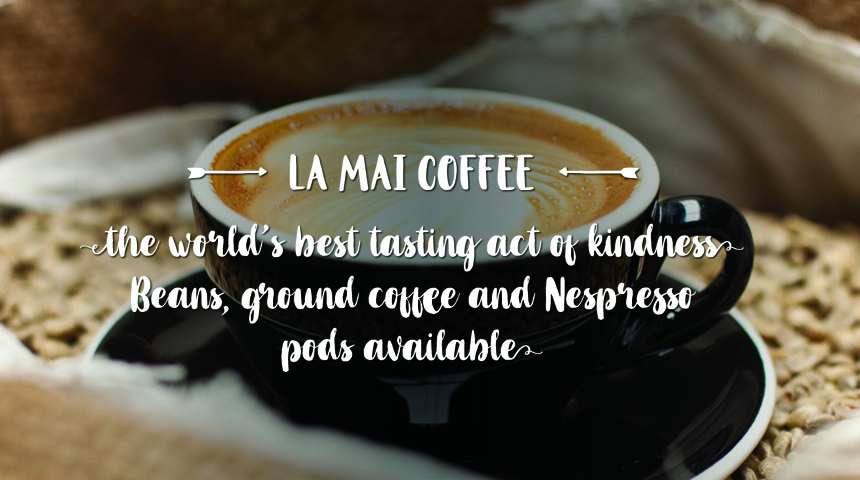 We say La Mai coffee is the world's best tasting act of kindness.
That may sound a bit strange; how can drinking a cup of coffee be an act of kindness? It all comes down to the story behind La Mai coffee, and the powerful difference you can make when you buy our coffee.
La Mai coffee is grown in northern Thailand in a rugged, mountainous area commonly known as the 'golden triangle'. The name comes from the notoriety of this area as a heroin producing region.
For decades, many of the poor hill-tribe farmers in this area have grown opium for the drug trade. They make little money from this, and so some have sold their children into the sex trade in Bangkok to supplement their income. Many of the farmers borrow money from loan sharks that charge as much as 10% interest a month, making repayment almost impossible.
Life is tough and help is very hard to come by for most.
But by working with local farmers to change their crops from opium to coffee, we're able to help them to lift their incomes well above what they can earn from the drug trade.
Bright Hope World buys the coffee at above fair trade prices from the villagers and imports it to New Zealand and Australia where it is roasted and marketed as 'La Mai', which is Thai for 'pleasant'.
By working with a local Thai-based co-operative we are also able to support water, sanitation, irrigation and education programmes for the farmers to improve their overall standard of living. Helping them to find markets for their coffee is just one part of our commitment to these poor hill-tribe farmers.
We also support the villagers by making funds available for microfinance programmes. These small, low-interest loans enable villagers to plant crops, buy livestock or improve their modest homes. As their standard of living improves they are able to take larger loans and begin to fully provide for their families' needs. Microfinance is not a hand-out, but a way of enabling people to find solutions to their own economic problems.
All of the profits from the sale of La Mai coffee go back into helping the farmers in Thailand and into an organisation in Bangkok that helps rescue women from prostitution.
The Thai sex trade is huge. It is now rivalling the drug trade as the single biggest source of income for organised crime. Tens of thousands of Thai women and children live in prison-like conditions and are 'sold' to sex tourists day after day. To those stuck in this life, it must seem as though there is no hope.
But there is hope.
The proceeds from the sale of La Mai coffee help support Rahab Ministries which is actively involved in rescuing girls from Thai brothels and giving them a new life.
Rahab provides the girls with education, skills training and job opportunities to allow them to earn a living and continue to support their family. They also help the girls start small business ventures so they can provide for themselves.
And you can be a part of this by simply changing your coffee supply for home, work or church to La Mai.
It's the world's best tasting act of kindness.
Find out more or purchase La Mai coffee here.
Find out more about our partnership in northern Thailand that produces the coffee here.
Find out more about our partnership in Bangkok that helps women get out of the sex trade here.
Click here to view or download our Organisation Profile.